A private fingerlakes getaway located near area treasures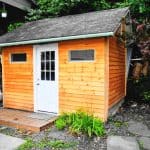 About Us
call 607-387-5688
We have a large 4 bedroom Lake house that can sleep 15 and  up to 23 (if you rent the bunkhouse also) and 8 adorable cottages on a bluff overlooking the lake, and 2 really beautiful Yurts all sitting on 400 feet of Cayuga Lake Front, in a very private wooded area.  It is about 50 steps down to the lake.
We are located in the heart of the Finger Lakes. We are located right at the beginning of the Cayuga Wine Trail and 11 miles from the Seneca Wine Trails.
There are 4 beautiful state parks within 12 miles of The Spotted Sandpiper. We are located at 9305 Kingtown Beach Rd, Trumansburg, NY, 14886.
The Spotted Sandpiper is located 11.5 miles north of Ithaca off of RT 89 in the town of Trumansburg, NY 14886
The sweet town of Trumansburg offers 2 large grocery stores, 3 pizza parlors, a great Chinese food restaurant and 9 restaurants/bars most with live music. There are also 2 laundry mats, 2 movie rental stores, 2 pharmacies', a hospital 8 miles away and more.
Check in is 5:00 PM, check out is 10:00 AM. If the house or cottages were not used the prior night, call for earlier check-in availability.
Our only goal is for You, your Family and Friends to have fun and enjoy the beautiful area the property and the lake.